Parkinson's Disease: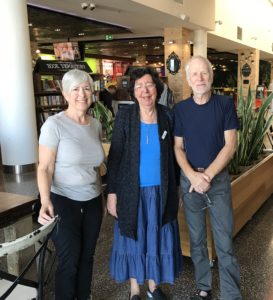 Jane Gow is the Coordinator of the Coffs Harbour Parkinson Support Group, one of 70 such NGOs in New South Wales that provide information, counselling services and training for health professionals, raise awareness, and fund research grants to find a cure. She kindly agreed to meet with us to discuss her work and PD in NSW. Over coffee in Coffs Central shopping mall, we had a very interesting and informative discussion with this lovely and dedicated lady, grandmother to four. Jane became involved in PD support after her husband was diagnosed in his 60's. He is now 74. After they retired, they moved to Coffs Harbour from Sydney to enjoy the warmer climate, but are still dependent on the medical system in Sydney. There is no neurologist in Coffs Harbour, a community of 60,000, although one flies in from Newcastle.
The Coffs Harbour Support Group has grown from a membership of around 30, when Jane started the group, to its present size of 126 families. This includes a few spouses of persons with PD, who have continued an association with the group after losing their partners to PD. The group brings in guest speakers, hosts special discussion meetings, maintains a newsletter and holds regular social events. It relies on volunteers and fundraising to carry out its work and has the support of some local businesses and Rotary.
An important  activity of the support group is lobbying Government on the needs of persons with PD and their carers. Jane's group is fortunate to be able to employ a neurological nurse three days a week, who provides support and assistance to persons in the community with PD, particularly in their interactions with the medical system. We were interested in this service, which appears to be provided by other PD support groups in NSW. We were not able to meet with Vince, the nurse, as he was in Sydney, but we hope to chat with him before we leave Australia.
Basic rehabilitation services are available in NSW for persons with PD, but exercise programs, for example, are private and can be costly. Jane mentioned that there is a rebate of $150/year for heating and cooling costs for people who have difficulty regulating their body temperature, including persons affected by PD and MS.