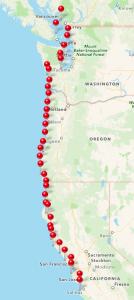 In the summer of 2014, we cycled down the west coast of the United States. We left Vancouver on July 5, heading due south, via Sidney and the San Juan islands, meeting the Washington State coast at Westport. From there, we were hoping for a constant tailwind, sunshine and unimpeded views of the coastline, with a few diversions inland when the route dictates, to end up in San Diego.
While  the tailwinds, weather and spectacular views were everything we had hoped for,  difficulties in finding accommodation further south in the height of summer resulted in a shortened itinerary, and we ended our cycle trip in Monterey.
As we did on our cross-Canada trip, we  attempted to acknowledged the traditional territories of Native Americans along our route.