Our ride, of around 30km, took us along False Creek, English Bay and UP to UBC. We visited West Point Cycles on the return to buy more supplies, including a smart new helmet for Lois. I will have to get one as well as I realize mine is probably beyond the 10 year expiry date. Lois's bike should arrive in two weeks and therefore hopefully in time for our trip to Victoria.
It was cold, but not rainy. We guiltily admired the first cherry blossoms while snow storms continue everywhere to the east.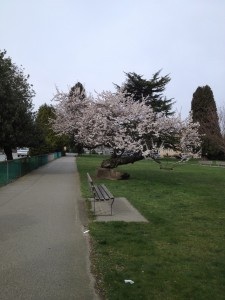 Later, we planned our route, calculating daily distances and possible resting places. This will be "subject to change", but is a start.