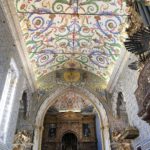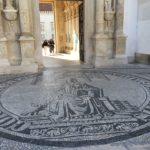 We started our morning wanderings with espressos at Nicola Cafe, before visiting the Romanesque Old Cathedral, Sé Velha, built in the 12thC and with its 13thC Gothic cloisters. Also designed to be a fortress against a Moorish threat (Coimbra had been a Moorish stronghold for centuries, but were evicted by Christians in 1064).
Lunch at Maria's again, and then the afternoon spent touring the campus of the University of Coimbra, founded in 1290, one of the oldest continuing universities in the world and a UNESCO World Heritage Site.  We were particularly impressed by the Old (Joanine) Library, with its rosewood, ebony and jacaranda tables, frescoed ceilings and gilt chinoiserie bookshelves,  stacked with 300,00 ancient texts. It has a colony of resident bats that feed on insects that threaten the pages of the books. Passing by above the Ceremonial Hall (Sala dos Capelos), we noticed that a PhD oral defense was going on (in English).  The candidate was in academic robes and was facing up to 6 enrobed jurers. We couldn't hear enough to identify the subject, but did pick up a reference to "a rise in populism" and its relationship to a "tension between liberalism and democracy". Very topical!
We ended the day at a Fangas, a tapas bar, where we had a superb selection of dishes, including Rabaçal  cheese, bean and mushroom stew, chestnuts and caraméliséd onions, with glasses of excellent local wine from the Baga grape.
Back on our bikes tomorrow!